Of all cities in Ecuador, Cuenca is, without a doubt, one of the most charming thanks to its urban rivers, colonial parks old world cathedrals, and cobblestone streets. Over the last couple of years, Cuenca has quickly grown to become a hotspot for retirees and expatriates who're settling down to live. The low cost of living, guaranteed security, and pleasant, even though slightly cool weather are the main things that attract expats to this small Andean city.
In addition to that, Cuencan history and culture are thoroughly represented in the town's lots of museums. Travelers looking for culture in the city during the day can choose from a wide array of colonial plazas and churches.
During the night, restaurants and bars are plentiful in Cuenca with excellent international and traditional foods at affordable prices. Nightlife in Cuenca varies from upscale to bohemian, but the music has a tendency of getting lowered down a bit early before dawn; which mirrors the capital's conservative and conventional culture.
Another point worth noting is that Cuenca is the capital of Azuay Province, the 3rd largest city in the nation and also the biggest commercial center in the southern Sierra. These features, as well as the city's astoundingly well-preserved culture and history have earned Cuenca the right to get listed as a UNESCO World Heritage Trust Site.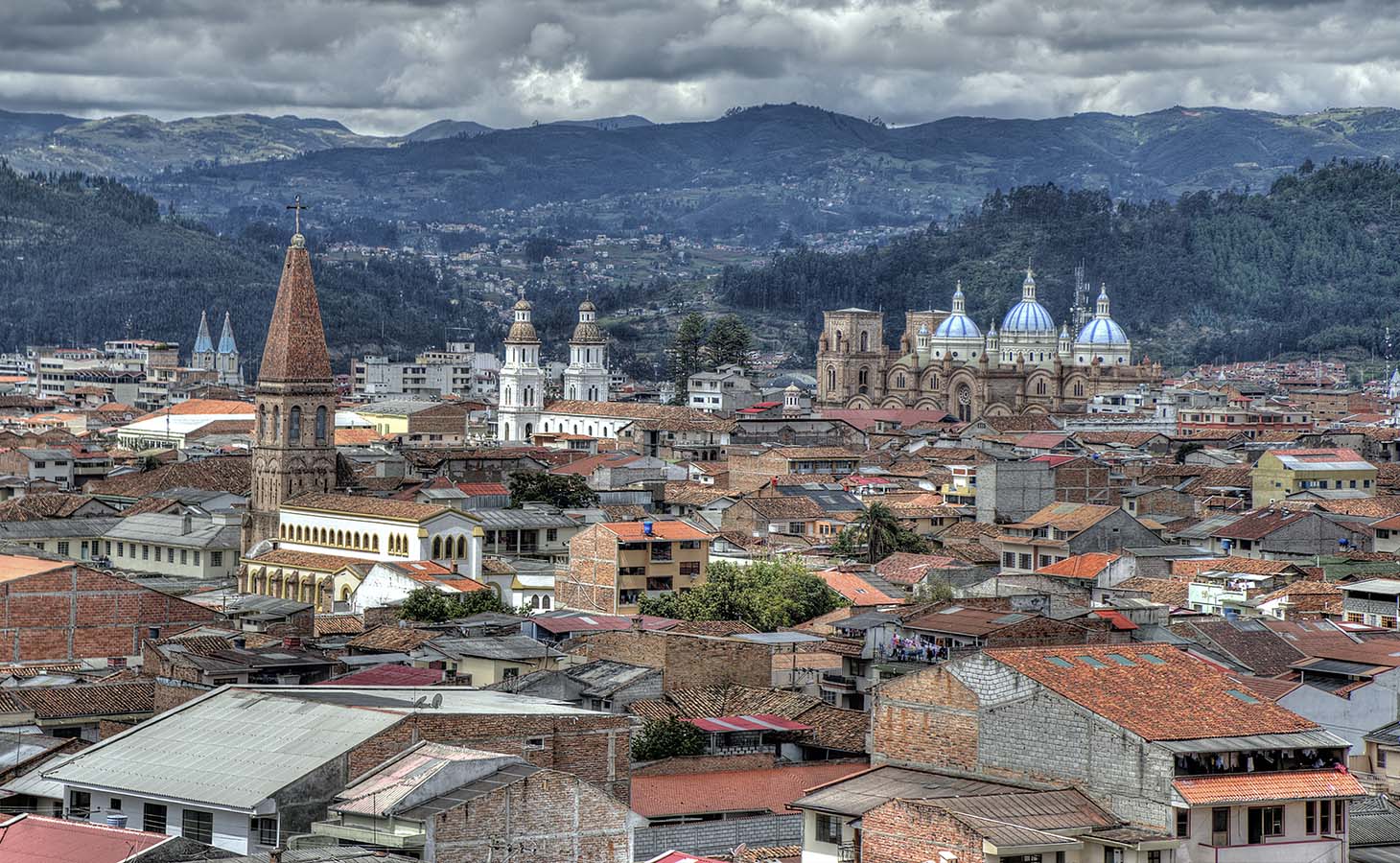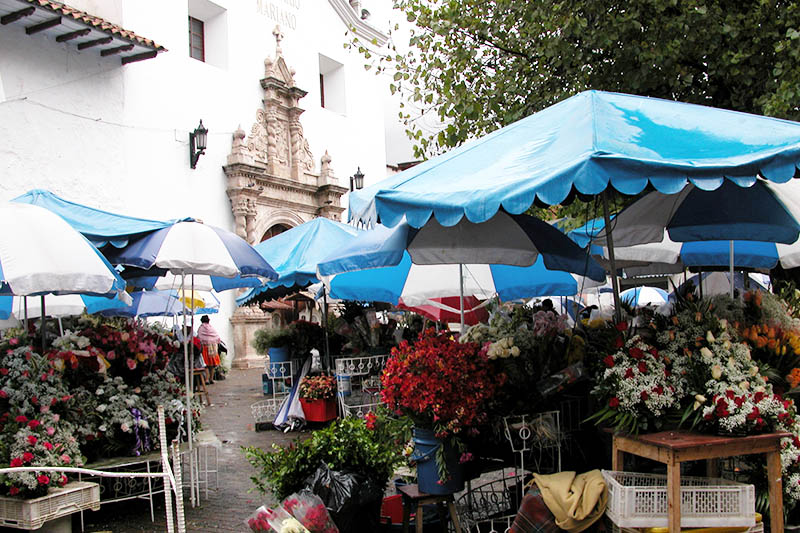 This city's attractiveness lies in its surroundings and people, which include the towering volcanoes surrounding the Andean town and the Otavalenos themselves. The Otavalo market, which mainly makes this market town renowned, is without a doubt, among the most spectacular and important markets in all of Latin America.
The Otavalo market place is striking to tourists for both its cultural significance and its outstanding shopping experience. Locals in this city utilize each market day the same way their ancestors before them did during the nation's pre-Colombian history.
The Otavalo market is the best way for you (as a tourist) to experience conventional Ecuadorian Culture and the traditions of the Andes people. The best day for tourists to hit the marketplace is Saturday because it is the largest market day for locals and gringos alike.
We recommend that you arrive on a Friday afternoon, then do what most enthusiastic travelers do: set your alarm from 5:00 am. After you have
jolted out of your bed on Saturday morning, you can walk sleepy-eyed across Avenida Colon to the river situated across the bridge.
Once you reach the top of Avenida Segundo J Castro, you will find yourself in a mesmeric scene reminiscent of the pages on the National Geographic: the Otavalo animal market.
By 6:00 am, while the mountains are casting improbable shadows over the city and the sun rising, the market will be already live with clucking chicken and squealing pigs.
As you stroll down the streets of Otavalo, you will also find everything from armadillo shell guitars to jumpers, ceramic fried eggs to wall hangings. You do not have to restrict yourself to Poncho Plaza (where the market is centered around).
You are in fact, likely to get better deals away from the main square.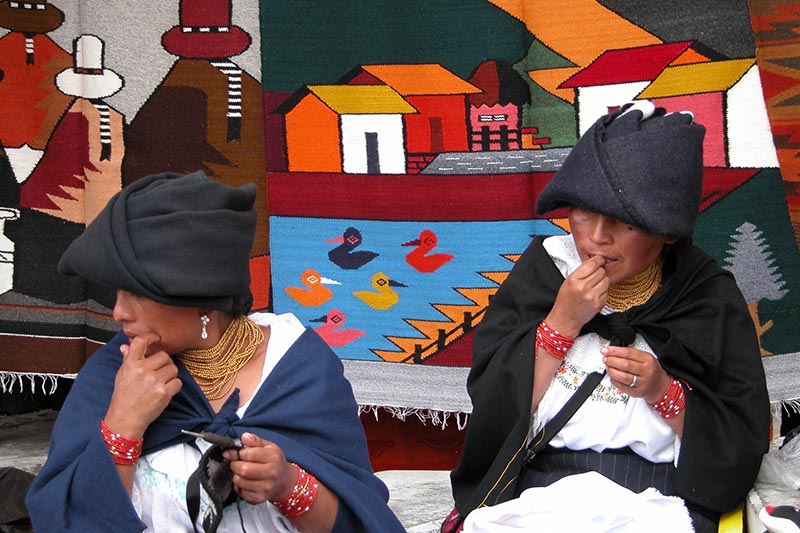 Banos de Agua Santa in Ecuador is among the most laidback towns in the nation. Better yet, it is filled with exciting activities, but if you are traveling on a budget, you can simply hike or bike around, swing on the most famous tree house situated in the lush natural scenery, or see waterfalls.
Settled among rapid rivers, hot springs, and lush green hills, City Baños was predetermined to evolve to become one of the most famous backpacking destinations in South America.
Thanks to its geographical location, you can also utilize Banos de Agua Santa as a base camp during your Amazon adventure. This city got its name after several hot springs started bubbling out of the ground. In English, the term Banos means "a bath." The city is also situated only 3.5 hours away from Quito if you travel by bus, and it can become pretty busy over the weekends.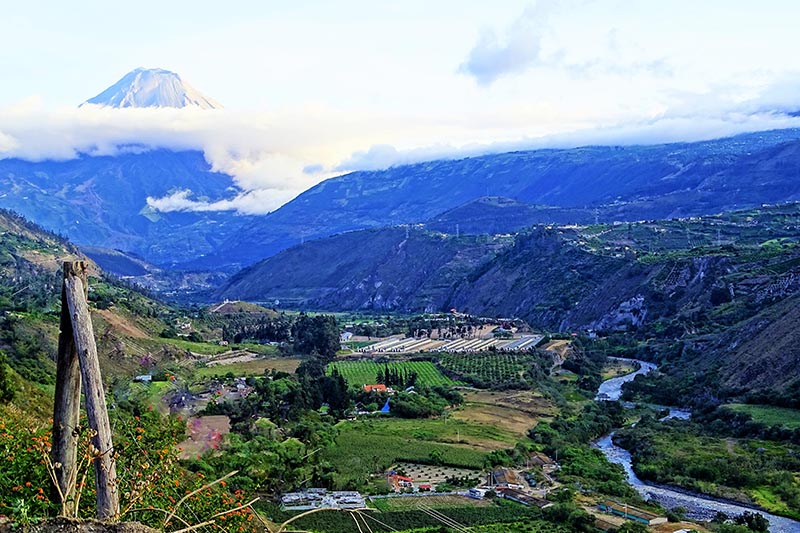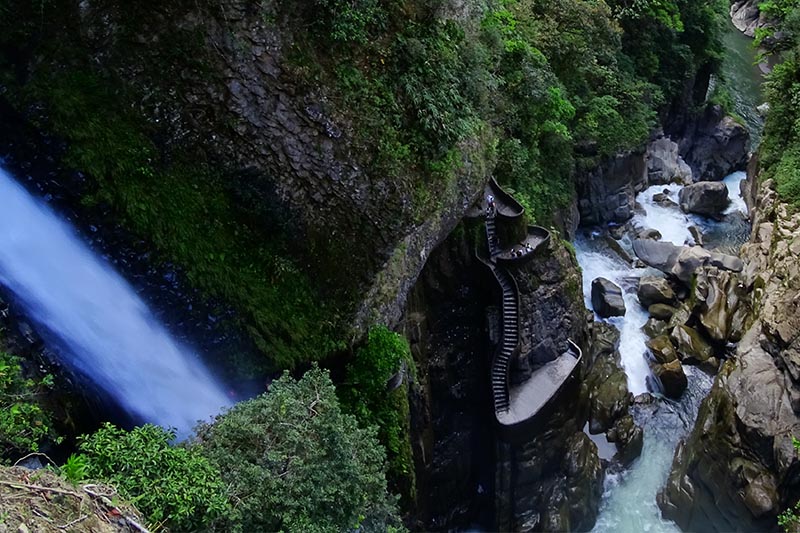 Expat haven, mountain paradise, healing mecca – the small city of Cotacachi (with a population of approximately 9,000) has been racking up a list of admiring titles as well as attracting retirees from the United States and beyond.
Situated roughly two hours from the capital city (Quito), Cotacachi is well renowned for its hard to beat and handcrafted leather products. Method of molding, stretching, and tanning the leather skins have been passed down from one generation to the next and then perfected into art.
You can call this destination a small town, but rest assured that it boasts
lots of natural attractions nearby you can enjoy. You will never have a real reason to complain of boredom even if you live in Cotacachi for years.
For instance, you can start by hiking to the summit of the Cotacachi Cayapas Ecological Reserve, which lies at 16,200 feet (4,935 meters). Another great option you have is to visit the Lake Cuicocha volcanic Crater Lake also situated in Cotacachi Cayapas Ecological Reserve.
A majority of retirees and expats are attracted to the city by the hard to beat real estate deals, the peaceful environment, friendly individuals, as well as the low cost of living.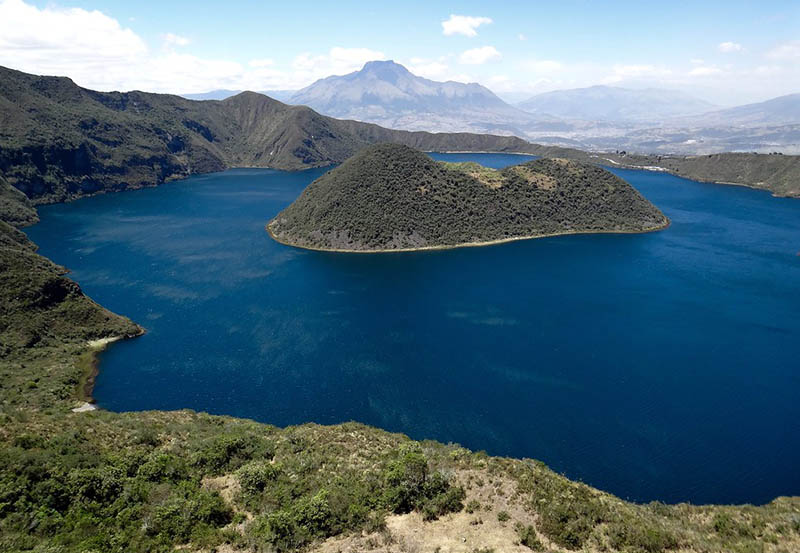 Vilcabamba is also called "El Valle de Longevidad", which loosely translates to "The Valley of Longevity." The title was derived by the locals from rumors that inhabitants in the region tend to have longer lifespans than average.
In fact, the region is said to boast the highest concentration of
centenarians (individuals who are over the age of 100 years) compared to any other region in the world. Regions such as this one around the world are usually regarded to as Blue Zones, and their claim of old age is usually attributed to better soil, water, oil, a perennial spring-like climate, regular exercise, and a lifestyle that necessitates low stress.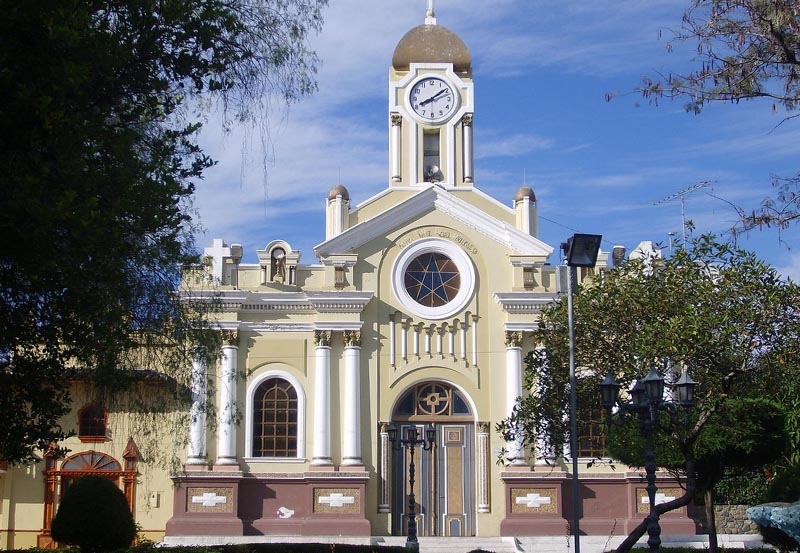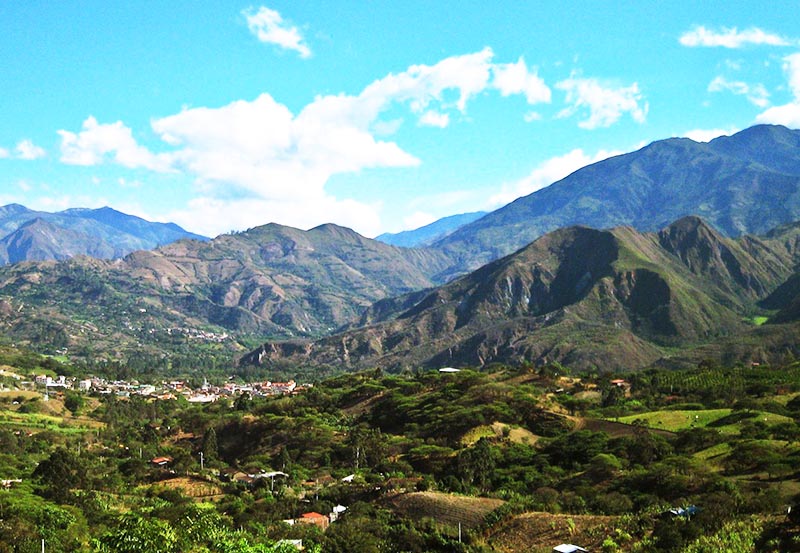 Perhaps among the most popular volcano mountains in Ecuador, Cotopaxi Volcano is among the highest active volcanoes in the whole world. Usually recognized by its round-shaped, snow-covered crater, you can even spot this Mountain form Quito if it is a clear day.
Cotopaxi Mountain and the surrounding National park will offer you a wide array of nature-based activities such as hiking, climbing, or trekking: and all these options are guaranteed to leave you spellbound by the magic of Cotopaxi.
Even though it is not the highest mountain you will find in Ecuador, Cotopaxi Mountain is, without a doubt, the most famous and highest active volcano in the nation. Boasting a peak altitude of 5,897 meters above sea level, it is a bit lower compared to the Chimborazo volcano mountain which I will point out next. Chimborazo volcano has a
peak altitude of 6,268 meters.
In October 2017, Cotopaxi reopened for climbers and visitors after staying closed for more than 13 months because of an eruption. You could see the thick black smoke rising from the crate, which was mesmeric to look at, but it meant the Cotopaxi National Park wasn't open for business.
In addition, Cotopaxi is the perfect mountain for beginners who would like to attain a bit more experience with mountain climbing. I wouldn't consider climbing the mountain a difficult experience, but it's a more technical climb which will require a professional guide and special gear.
Some of the necessary gear you will need to climb the mountain include, helmets, harnesses, ice axes etc. the good news is, most of these tools will be included when you book a tour to climb Cotopaxi.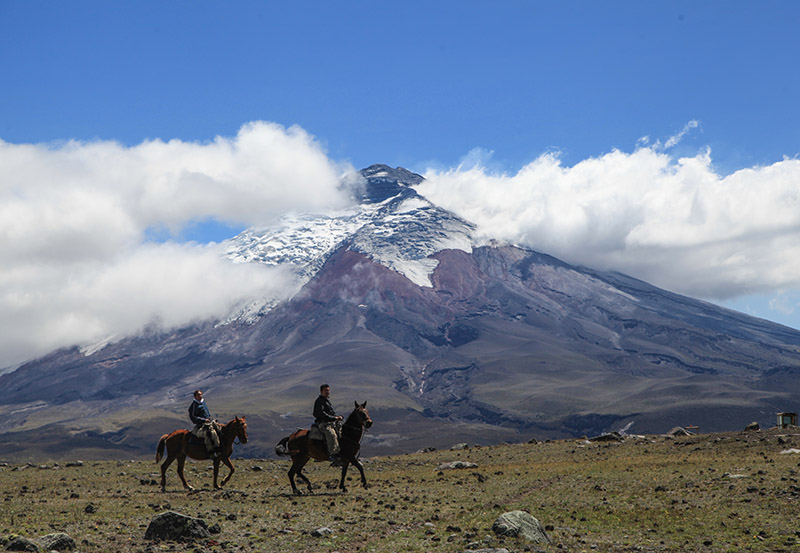 As I mentioned in the preceding section of the post, this is the highest mount in Ecuador. On the other hand, climbing this mountain is quite non-technical, implying that you can get to some of the highest altitudes without coming across extremely vertical treks that need technical skills such as rock climbing.
The 20,565 ft. (6,268 m) tropical peak of Chimborazo is likewise the closest surface to the sun on all of the earth.
If you measure the mountain from the earth's center (instead of according to the usual sea level), Chimborazo is the highest mountain in the world.
This Mountain's Climb is usually executed between twelve o'clock and dawn. Most mountain climbers who climb successfully to the summit either
reach the major Cumber Maxima Summit or Secondary Veintimilla peak 20,440 ft. (6,230 m) at roughly sunrise.
Mountain climbers who are lucky enough to hike the mountain with good climate are awarded an astounding view of Ecuador's other striking peaks such as Sangay, El Altar, and Cotopaxi. The descent back to Chimborazo's Whymper Refuge at 16,400 ft. (5,000 m) will take you approximately 2 – 3 hours.
That said, if you are looking forward to climbing mount Chimborazo, I urge you to try and spend time at high altitudes prior to attempting a Chimborazo summit climb. This will allow you to see how your body reacts to high altitudes. And for safety reasons, you must be accompanied by an ASEGUIM certified mountain guide if you'll be hiking Mount Chimborazo.